A Complete Mobile Data Collection Solution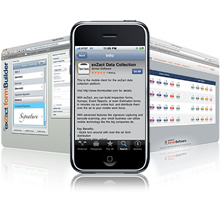 The iFormBuilder mobile platform is a complete mobile data collection solution. From building robust forms with our Formbuilder to mobile data collection with the iPhone, iPod touch or iPad and finally managing data and forms from any browser you will be impressed with our true "out-of-the-box" solution.
Benefits of iFormBuilder Data Collection include
Image and Audio Recording
Signature Capture
Offline Data Collection (tunnels, indoor, etc.)
GPS and Mapping functionality
Data Validation upon entry
Over the air form submission
iFormBuilder Dispatch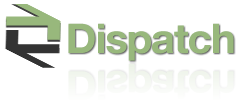 Dispatch transforms iFormBuilder into a simple yet effective work-order management system. As the platform continues to be a robust data collection tool, iFormBuilder can now be used to create work-orders, task-orders or tickets. Assignments can be created on the server and dispatched to your mobile work-force in real-time. With push notifications, mobile workers can now receive work assignments wherever they are. Users can send acknowledgments back to the server, or reassign the ticket to another mobile worker on the fly. Combined with Zerion Mobile Behaviors (ZMB), complex routing can be created based on the data collected in the field. With on-site emailing, mobile workers can now 'leave behind' a work receipt at the client location.
Benefits of iFormBuilder Dispatch include
Create pre-populated records on the server
Assign records to mobile users
Push Notifications: (Send Ad-Hoc notification messages or record assignments)
Server Acknowledgement
In the Field Reassignment
Onsite Email
Zerion Mobile Behaviors (ZMB)

ZMB is the industry's most comprehensive form behavior framework which allows for unprecedented flexibility. From simple skip logic and calculation logic to inter form data communication. While most mobile solutions allow you to create simple skip logic, iFormBuilder provides a complete mobile experience and will allow you to create a mobile centric work flow.

Zerion Hybrid Cloud (ZHC)

ZHC is a simple, yet innovative concept which gives clients the best of cloud computing and on premise software. With ZHC, the server software is running within our cloud, therefore eliminating any server software maintenance headaches, and ensures you are always running the latest and greatest version of the software. All your proprietary information, including your form design information, is kept in a private database that is securely located within your corporate firewall. ZHC enables us to continue to provide cost effective software as a service solutions (SaaS) while giving you complete control over your data.
Robust iPhone/iPod touch and iPad Client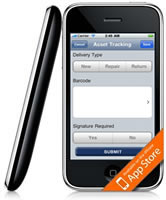 Creating our first client on the iPhone and iPod touch was an easy decision. Usability and cost were the main drivers. The exZact client truly enhances data collection input with having GPS, photo and sound capabilities in one device. While we have introduced our platform with the iPhone and iPod touch client we are now offering mobile data collection on a native iPad client and will soon be expanding to the Android platform.
Some benefits of the iForm Client include:
Increased Productivity
Reduced Cost's
Increased Customer Satisfaction
One time data entry
Real-Time data upload
Cost effective devices
Powerful Formbuilder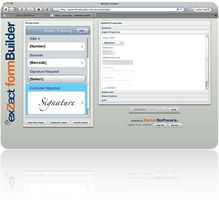 The exZact iFormbuilder engine allows users and administrators the ability to easily create and update advanced forms. The exZact iFormbulder includes 24+ widgets that include photo, audio, signature capture, multi-select and range controls to name a few. The ability to add dynamic and conditional elements with ZMB along with client validation puts iForm in a class all it's own.
Some features of the exZact Formbuilder include:
Automatic Time and location tracking
Over the air form distribution
Instant form updates
Over 24 widgets and growing
Accurate Data capture with no redundancy
Data validation upon entry
Functional Data Access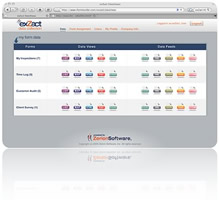 The iFormBuilder Data Viewer accessible via our Control Panel allows users and administrators the ability to view the data via multiple data views (List, html, map, graph, pdf and excel) and data feeds (excel, xml, JSON, ATOM and RSS) with no customization. It's your data so we want to provide you access to use it in your environment. A simple administrative interface offers company admins an easy way to manage forms and users.
Some features of the iFormBuilder Control Panel include:
Instant Report Viewing
Simple user and form management
Multiple Data Views (List, PDF, Excel, etc)
GPS and Mapping functionality
Real-Time data upload
Multiple Data Feeds (XLS, xml, JSON, etc)
Works Anywhere – No Coverage? No Problem!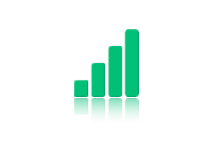 We designed our system to work in optimal or poor conditions. With a native thick client, network coverage is not required to collect data. All data collected is stored locally and can be uploaded to the server when network connectivity is available. Our specialized synchronization logic is designed to work even when network coverage is less than optimal. It works in extreme conditions such as disaster recovery and public events.
Some benefits of a Native Client include:
Online or offline data collection
Synchronization in spotty coverage
Native form rendering
Local data cache
Maximum Security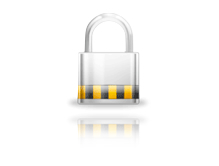 Security is a top priority. With the introduction of the Four layers of security can be configured from the server for different applications. For the most secure requirements (HIPAA, FIPS140-2), the iForm secure client has built-in password protection and local data encryption. All data is communicated with the server through a secure network connection. An optional data wipe can be setup to automatically delete all data when maximum login attempts are exceeded. Encryption and user authentication is designed to resist physical tampering, so even if the device is being jailbroken, data within our application remains safe.
Security features of the iFormBuilder mobile platform and iForm ES Secure client include:
Password protected client
Secure data transfer
Tamper Resistant (Jailbreak Safe)
Local and server data encryption
Remote data wipe
Massively Scalable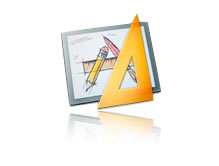 The iFormBuilder mobile platform is designed to handle massive data collection. Utilized during the last presidential election and inauguration, our server is able to handle thousands of concurrent users and hundreds of thousands of pieces of data within a few hours.
The Scalable design benefits:
Thousands of concurrent users
Real-time data analysis
Millions of data points
Easily grows with the customer